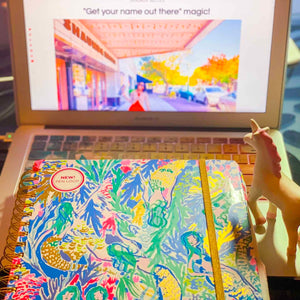 Feature Film - 4-hour SEO masterclass coaching with Shaunda Necole!
Is perfect for you if:
You want to know what needs to be worked out all at one time. You'd feel more confident making those next step, level-up changes with me right there to guide you through.
We'll rip off that band-aid and get started!
We might work together, or we might kick things off with a call, and then I tackle some elements on my own and give it back to you so-fresh-and-so-clean, smelling like a money-maker.
Ready to breathe in the scent of moolah? Let's work this out and make it rain!
You need one-on-one, customized time to hone in on specific SEO strategies and goals for your website.
What is SEO & why do you need it?
SEO (Search Engine Optimization) is a step-by-step strategy to help a website or page appear at the top of Google search results.
Simply put, it's how people online find what you publish & share!

Is it easy to learn SEO?
Yes! My proven SEO strategy (the exact strategy I use to get multi-millions of people to my website!) makes SEO easy.

You'll learn what it takes and what to do to make Google love your site!
Ask me your questions and show me your site to get my one-on-one personalized support and customized feedback.

Even better, I'll guide you with my top secrets for how I've ranked dozens of blog posts top of search and #1 on Google - in less than 6 months! 
Do I work with you for the full 4 hours on a call, half-n-half, or all on my own?
When you book, I'll figure it out with you. Don't worry, I'll know.
We can discuss edits for all of the following with SOME implementation while I'm on a call with you!
What is SEO?

Your brand identity

An SEO site audit

An SEO strategy

Google, SEO, or Pinterest SEO ideas to reach new readers/customers

Edits for your website



Ready to book me?
Congratulations on investing in yourself!
After you book, you'll receive an email with a few questions to introduce your business to me and reserve your time-slot on my calendar.
As we close out our 4-hour mastermind, please keep in mind one of my favorite lines:
"The fortune is in the follow-up."
In other words, once we get you lifted off the ground and flying like the pegasus that you are, don't look down.
Keep flying higher. Follow-up in your fly and stay off the grass (legal or not). Keep flying and stay off the grass.
FAQs  
How do you schedule your appointment? 
Upon purchasing your 4 Power-Hours, you'll receive an immediate e-mail with access to my calendar and instructions on how to book our time together.   
*Please Note: All sales are final and the full 4-hour time-slot must be used within 30 days.
*This is not a physical item.
* After purchase, you'll receive an email with a calendar link to schedule your one-on-one coaching time with me.